Where exceptional design meets outstanding service.
"I founded Tina Barnard Designs with a focus on helping clients achieve something truly memorable, from initial concept to final install and occupancy." –Tina Barnard
Smart, intuitive design is not enough. To us, helping a company design a workspace is a hands on process that combines project management and space planning with ideation and design, permitting and occupancy. It is truly a process and we are proud to have earned our reputation as a corporate interior design firm that delivers end-to-end solutions.
With 15+ years of experience, we've proven ourselves effective at creating functional, artful and memorable office design solutions for clients both here and abroad. Based in the Triangle region of North Carolina, we've completed a number of projects in the Raleigh, Durham and Chapel Hill area and have also worked with clients in New York, Toronto and London, England.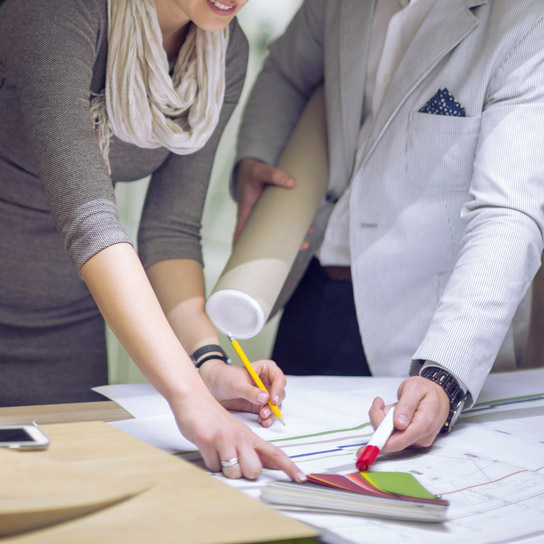 WHAT SETS US APART
We know how to work with clients, engineers, consultants and local municipalities to complete projects on time and on budget. TBD prides itself on always being the most consistent piece of the puzzle. We are...
WHAT OUR CLIENTS ARE SAYING
"I have worked with Tina and her group on several projects and I have always found them to be accommodating to the clients needs. They work diligently to complete projects on time and within scope and always alert the client to any obstacles along the way while working to create resolutions. I would highly recommend TBD and I look forward to working with them on my next project."
"Tina, Angie, Meg and the entire team at TBD are an extremely professional team that always exceeds expectations for us and our clients. Their knowledge of the industry, creativity in design while maintaining a budget, communication throughout any project and desire to get it right every time truly sets them apart. TBD is a difference maker and they represent our clients well and always willing to work hard in finding the appropriate solutions for any project."
"Tina Barnard Design (TBD) is our building designer for Carolina Place and recent acquisition, The Market Place at Lake Boone. Professional, responsive and creative are words that describes Tina, Meg and her team. We've worked with TBD on a number of tenant improvement upfits and our clients, which include various types of businesses, have always been pleased with the planning process through the end result. Griffin Partners has been pleased too. TBD's expedited work ethic , building code knowledge, working relationships with City authorities and dealing with construction complexities have always been completed well by TBD. To that end, we highly recommend TBD and their design services for developers, property management companies, leasing professionals and  construction managers."